Our Lady of Pochaev, Ukraine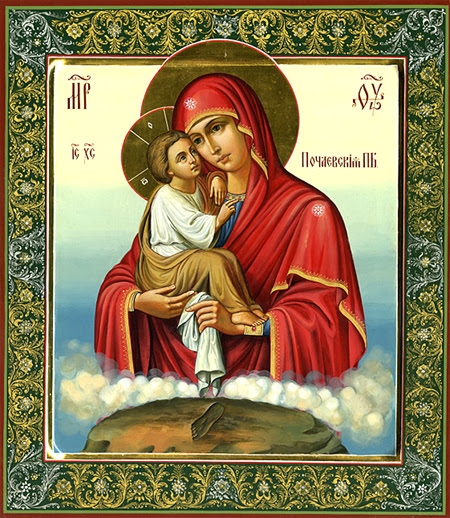 The Miracle of the Pochaev Icon of the Mother of God
( August 5, 1675 )
This Icon draws us into the heavenly realm is miraculous enough; yet because of the faithlessness of people throughout history, God has continued to work miracles through material objects, including holy Images. This is just a story about one miracle, performed through one single Icon: the Pochaev Icon of the Mother of God.
The Pochaev Mountain is in western Ukraine and it is there in the 14th century that an appearance of the Mother of God with her Savior was granted to two monks and a nearby shepherd. After the vision, a single footprint remained in the mountainside, from which a spring emerged. The previously uninhabited mountain became the site of a monastery dedicated to the miracle. Over 200 years later, the monastery was visited by a Greek Bishop, Neophit, who left behind as a gift, an Icon of the Theotokos from Constantinople. This is the Icon which came to bear the monastery's name: the Pochaev Icon of the Mother of God.
In 1675, a Turkish army made its way to the Pochaev Mountain, determined to expand the Dar al-Islam. The monastery, being a monastery, was incapable of withstanding an assault, and so despite the presence of armed defenders many gave up hope that Pochaev could survive.
On the morning of
July 23
(
August 5
in the modern, Gregorian calendar), Pochaev's abbot instructed the monastics to ask for the intercessions of the Mother of God and Job, a previous monk whose relics were laid in the monastery. With the Turks massed at the foot of the mountain preparing their assault, the monks began their Heavenly petitions before the Icon of the Mother of God:
"O Queen of the Heavenly Hosts ..."
With these words, a vision of the Mother of God appeared in the sky, with the monk Job beside her in prayerful petition, along with an army of angels, swords unsheathed. At this appearance, the defenders were over-joyed, whilst the besieging Turks were terrified. Such is the polarizing power of Heavenly Images.
In panic, the Turks fired arrows into the sky at the image but the arrows simply fell back to earth upon the attackers. Further panicked, the Turks turned to flee, trampling each other in the process. The defenders rushed out of the monastery to take prisoners from the routed army. These prisoners later found freedom in Christ, and many stayed on as monks at Pochaev.
The Icon above is a copy of the Pochaev Icon. The border of clouds represents the vision of Mary with her Child, Our Savior, being heavenly. Underneath is the footprint upon which the monastery (also shown) was founded.
The Pochaev Icon produced many other miracles over the years, and is still known as a wonder-working image to this day. Today is commemorated but one of these miracles.
Those who pray before your holy icon, O Lady,
Are vouchsafed healing and receive the knowledge of the True Faith,
And they repel the attacks of the Muslim horde.
Therefore, entreat remission of sins
For us who fall down before you.
Enlighten our hearts to thoughts of piety,
And raise a prayer to your Son to save our souls.
( Troparion (hymn) of the Pochaev Icon )